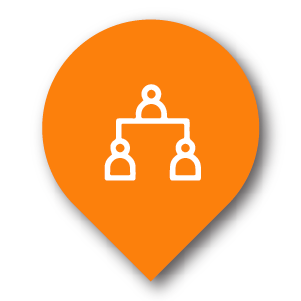 Let's put a stop to cloud confusion.
The events of the last few years have inspired most organizations to accelerate their adoption of cloud services. Shifting from traditional ways of doing business to a remote workforce and a cloud-based infrastructure is becoming mainstream.
This should be a wonderful platform for organizations to improve productivity, profitability and performance. The challenge here is that organizations typically move to the cloud and then try to stitch together a growing assortment of cloud-based vendors, all while trying to customize them to meet their industry-specific needs.
As an experience-driven digital transformation company, Threadfin offers an all-encompassing solution that allows organizations to truly capitalize on the productivity, profitability and performance that can come from the cloud. With Experience Threading, we move our customers to the Azure and AWS clouds using experience-led, outcome-focused solutions. This ensures both functional and financial benefits for employees and customers—not just great metrics for IT teams. When Threadfin moves you to the cloud, you want to stay in the cloud.
When combined with Experience Threading, we orchestrate the digital cloud capabilities of the employee and customer journeys by combining functional and emotional design to realize the true value of the cloud. Threadfin's extensive expertise in navigating the complexities inherent in cloud network architecture and cloud application architecture is imperative to providing employees with the capabilities they truly want and need.
Learn more about how Threadfin works with AWS and Microsoft cloud solutions.
Here's what you can expect from Threadfin's ArchOps:
Competitive agile cloud network architecture and cloud application architecture

Collaborative cross-functional teams

Equal focus on employee and customer

Experience-driven, outcome-focused solutions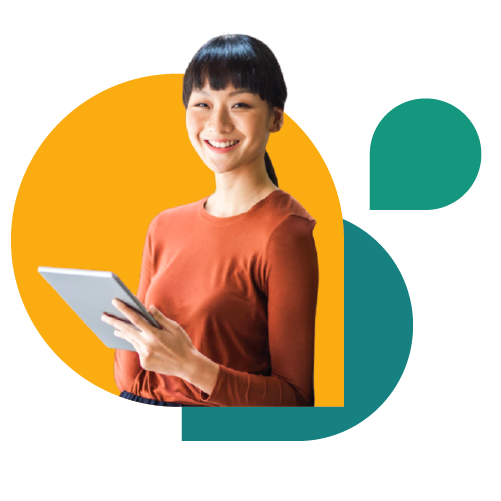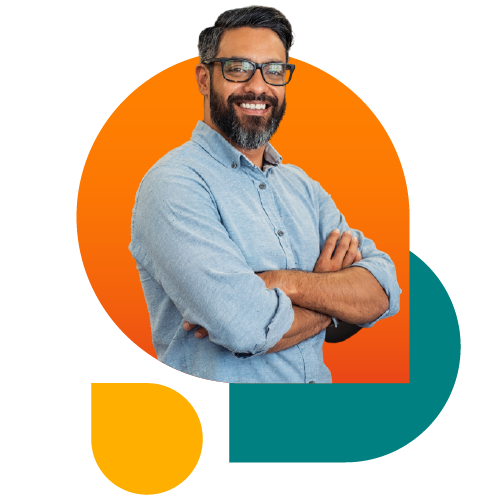 Active Directory/Azure Implementation
O365/M365 Migration
ADFS/SSO Implementation
Assess/Health Check/Remediate
Certificate Authority Environment Buildout
Domain Consolidation
On-Premise & Cloud Migrations
SCCM/SCOM/SCSM Implementation​
E911 Implementation
Cisco Call Center – SIP Transformation & Readiness
Cisco Unified Communications ESXi Upgrade
Cisco UC & Jabber Upgrade
Cisco UCCX & Calabrio Implementation
Security Assess and Remediate​
Cisco ISE Implementation
IDS/IPS Implementation
Identity & Access Management
Intune Implementation
Mobile device management/MDM​
Multi-vendor MFA solutions
OKTA & DUO MFA for VPN
SolarWinds design & implementation​
Citrix XenApp/XenDesktop Implementation
Hyper-V migration
VDI design & deployment
Veeam implementation
VMware refresh/upgrade
SharePoint assessment & implementation
SharePoint cross forest permissions
SharePoint development
Teams telephony | E911 integration
Skype implementation
Cisco ASA Implementation
Global VPN Implementation
Juniper/Fortinet Support
Meraki SD WAN Setup
Network Design & Technology Refresh
Palo Alto/Next Gen Firewall Implementation
SD-WAN Design and Deployment
Troubleshooting/Diagnosis /Remediation
Wireless Assessment/Implementation​
Assess, design & deploy​
Cloud data center buildout
Disaster recovery to the cloud/BCDR
Migrations
TCO analysis
Amazon Connect
Amazon Workspaces
Windows Virtual Desktops
"Digital transformation is more than just moving to the cloud. Digital transformation is purposely leveraging the cloud and other digital solutions to best enable a hybrid or remote workforce while driving successful business outcomes."
Doug Gabbert, Threadfin, President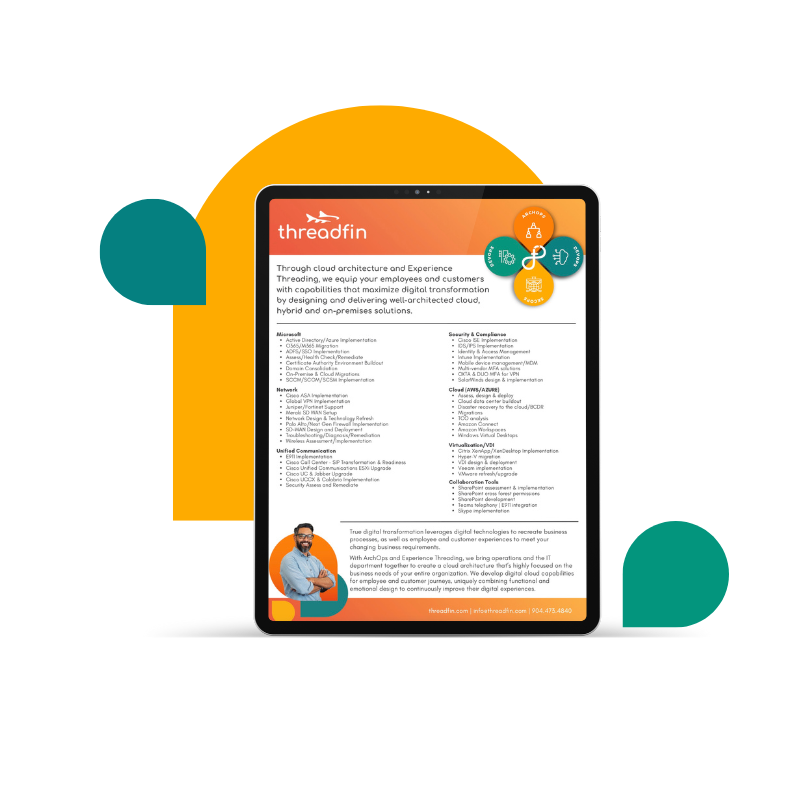 Download our ArchOps informational page!
Through cloud architecture and Experience Threading, we equip your employees and customers with capabilities that maximize digital transformation by designing and delivering well-architected cloud, hybrid and on-premises solutions.
Cloud architecture is available per engagement or as-a-service.

Either way, we use Experience Threading to design human-centered cloud architecture, continuously threading experience through every element of your employee and customer digital journey.
Ready to end cloud confusion?