In this article, Sara Keeney, Threadfin's Marketing & Communications Director, gives you a look at some of the ways she uses Microsoft Teams as an internal marketing and communications hub to support the organization.  
---
It seems like the discussion about remote versus in-office work should have wound down by now, but a quick scroll through LinkedIn shows that the topic is still alive and well.
Threadfin runs a completely remote team—and has done so since well before COVID. The reasons for this are many and the results for our organization have been excellent.
That said—well, written, really—this level of success with remote work wouldn't be possible if it weren't for collaboration tools like Microsoft Teams.
Threadfin supports collaboration and call center operations by implementing Microsoft Teams in many different organizations, but it's something we use internally day in and day out as well.
In this article, we'll look at the basics of how I use Microsoft Teams as an internal marketing and communications hub. As Threadfin's Director, Marketing & Communications, I like to make sure that my customers (Threadfin's team members, in this case) have what they need when they need it. Microsoft Teams allows me to provide that great employee experience. Let's take a closer look…
Team
When establishing Threadfin's internal marketing and communications hub on Microsoft Teams, I created a name (team threadfin), wrote a description and added a graphic. You can do this when you create a team, but you can also come back and do it later by clicking the ellipsis and then selecting Manage team from the dropdown. Click on the Settings tab and you'll find this capability—and quite a few more.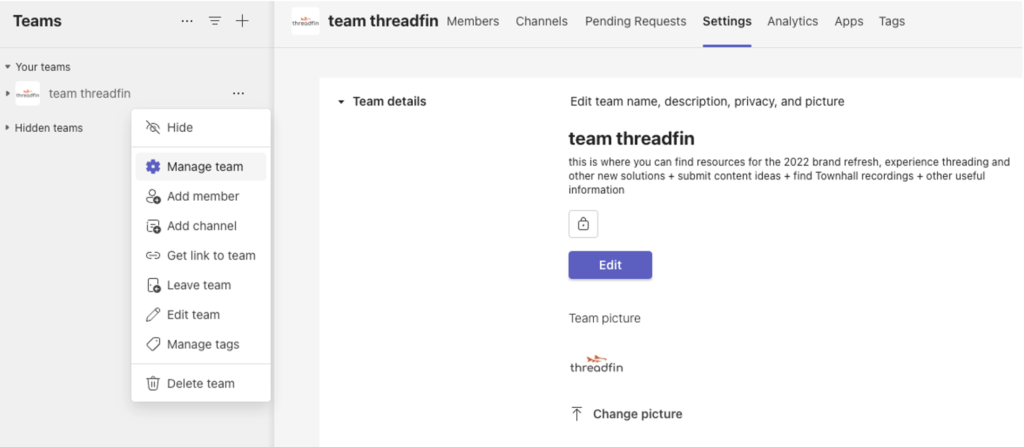 Adding a graphic gives the team a polished look and lets team members quickly recognize and navigate to the team. I'm a firm believer in providing employees with a great experience—why save all the marketing bells and whistles for customers when employees will love it just as much!?!
I also like taking a look at the Analytics tab in the Manage team section from time to time. That way I can see whether my colleagues are visiting the team and what they're finding most useful. If I notice a drop off in users, I'll be sure to create some helpful posts within the team and also promote the team in other upcoming employee communications.
When we onboard new employees, they're added to this team as part of our internal process. I recommend that you spend some time exploring the Manage team area to see what you can adjust to better customize the experience for your users.
Channels
In team threadfin, I have created channels that focus on specific topics related to marketing and communications.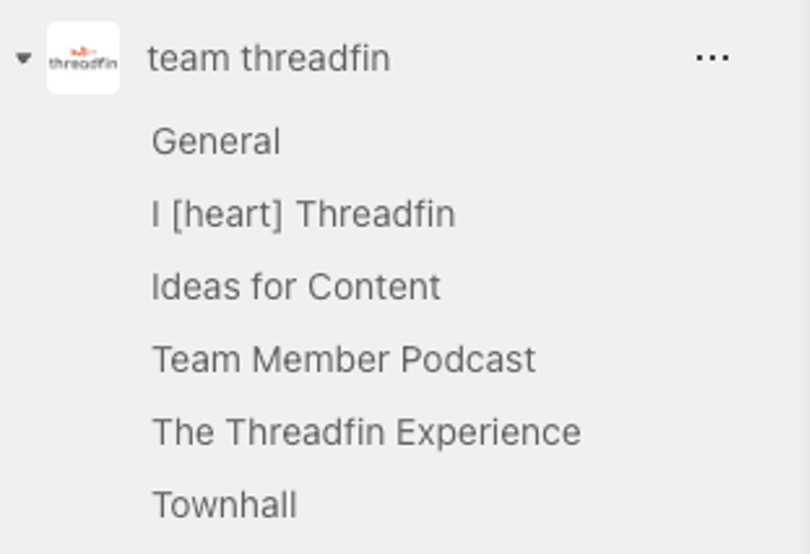 Not all channels need to have the same members, but in this case they do—all Threadfin team members are able to see and interact with every channel.
Here's a breakdown of the intention of each of my channels…
General: All teams come with a General channel. I use this one to store all the marketing collateral that our team members might need. New hire onboarding materials can also be found here. I should probably separate those out—I'll make a note now to get to that soon.
I [heart] Threadfin: This channel is where team members can find all the details of an internal contest that we just wrapped up. In a couple of weeks, I'll Hide that channel so it won't appear on the list, but the data won't be deleted.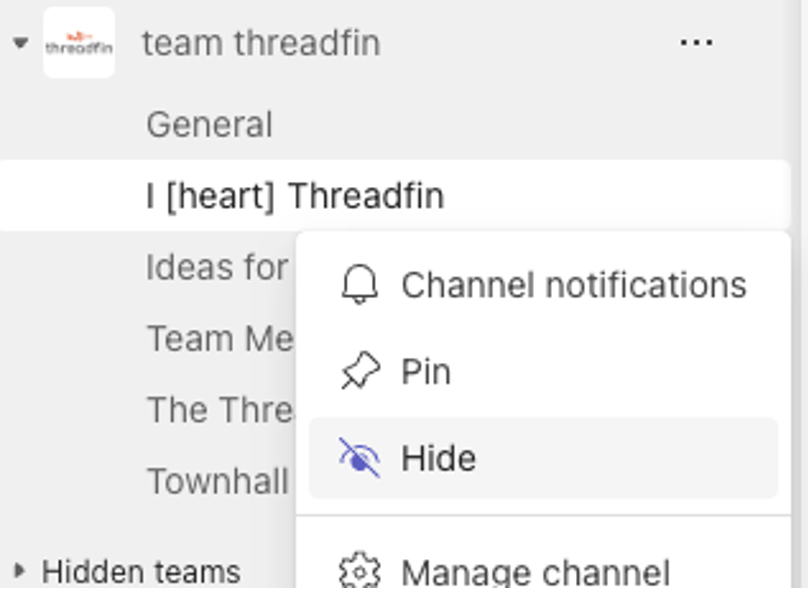 Ideas for content: This is an older channel that isn't visible to everyone. You can change visibility by clicking the ellipsis for the team and then selecting Manage team from the dropdown. Click on the Channels tab and you'll find this capability.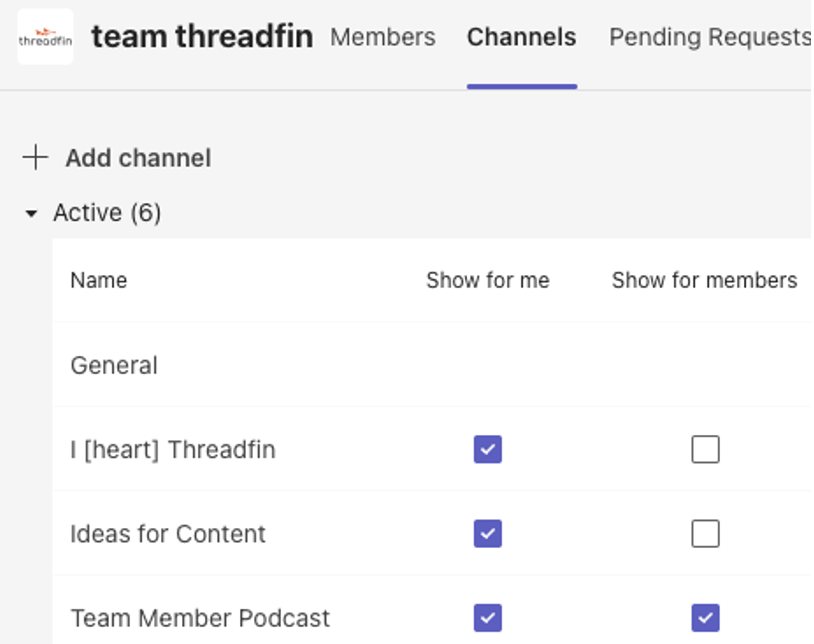 Team Member Podcast: We interview team members and ask them to share things like their favorite Threadfin projects and what they like most about working here. These are shared monthly in The Threadfin Experience (see next section), and they're stored here for reference. We do it right, with an intro and outro, music and branding.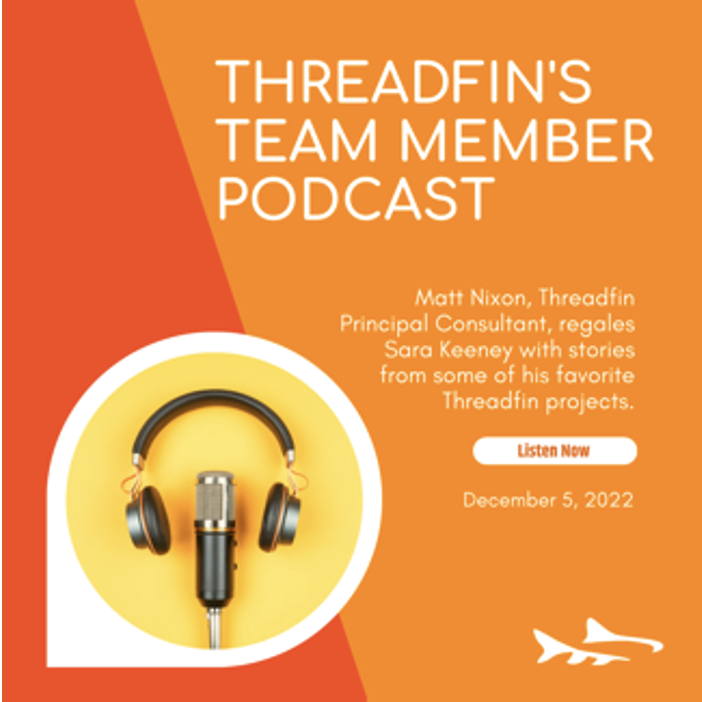 The Threadfin Experience: We produce a monthly team member newsletter that includes a message from our president, updates the team on recent and upcoming things they need to know and celebrates successes. While we use an email marketing tool for our primary distribution, we store past editions here. This makes it easy for new hires to see what we're all about and for existing team members to quickly find information without sifting through emails.
Townhall: Every quarter(ish) we hold a meeting (via Teams, of course) for all our team members. Some organizations call this an all-hands meeting. We store the recordings here, again so that new hires can see what we're all about and existing team members can reference them after the fact if needed.
Tabs
In each channel, Threadfin team members can find the following (sometimes more, very occasionally less) tabs:

These tabs come standard when you create a channel, and you can use the + to add other tabs: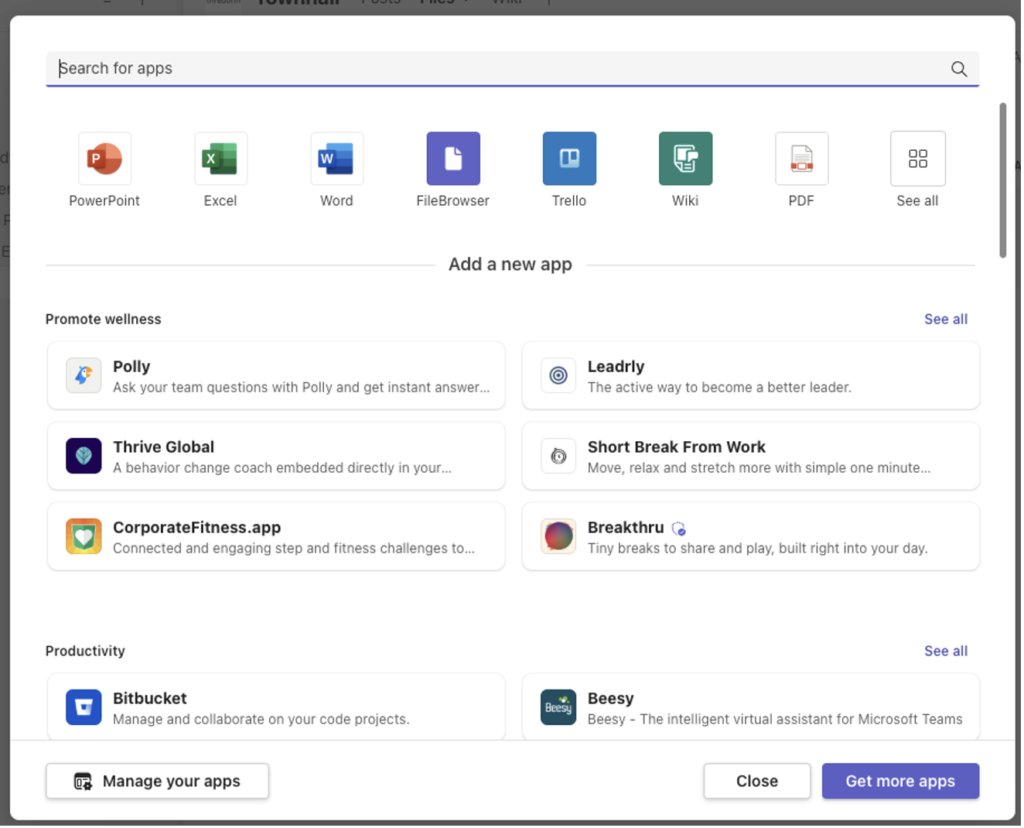 For example, I love Trello and use it to manage meetings with my manager and social media content. If it would be helpful to access Trello from directly within a channel, I can search for it here and add it.
Posts: The posts tab allows users to chat within the channel. Standard features like @mentions and attaching files are available. When there's something new to share, I like to @mention the channel so everyone gets alerted. I typically only do this with especially important information so I don't wear employees out with alerts, which could cause them to eventually stop paying attention.
Files: I love Teams for file sharing! In the example below you can see that I have a pdf plus some video files. For the I [heart] Threadfin contest, I created short instructional videos (via Teams) and put them in the Files tab of the channel.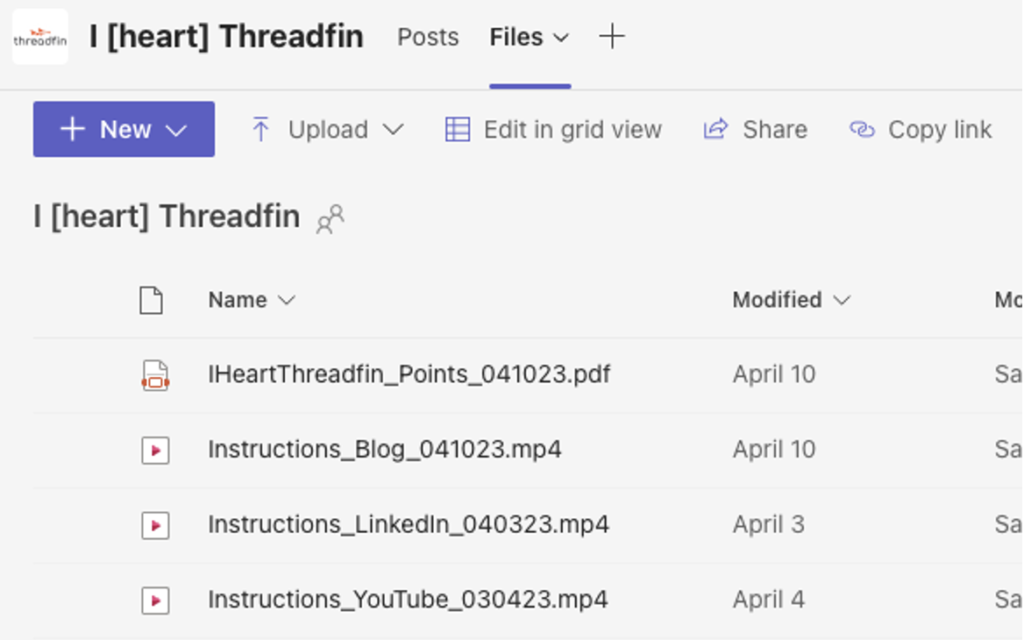 I then went to the Post tab and @mentioned the channel to let them know that the instructions were ready to view.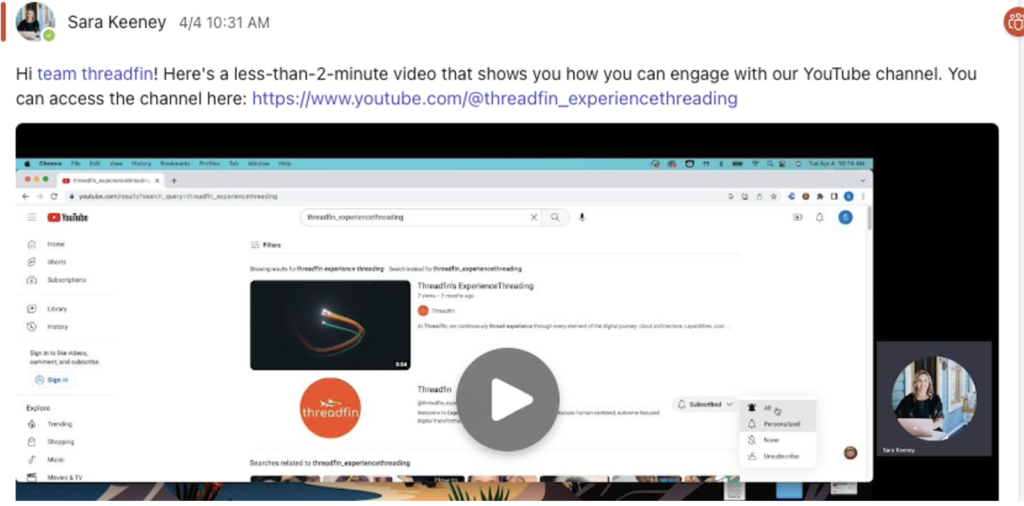 Important notes
Now that I've walked you through the basics of a simple employee communications set-up in Teams, I want to make sure I call out a couple of important things:
First, you may need to teach your colleagues to help themselves.
If your team members are new to this, they'll be used to coming to you for the things they need. Consistently and kindly redirect them to the Teams channel and tab where they can find what they're after.
 Here's a recent exchange I had with a colleague:

You can send them the link to the team: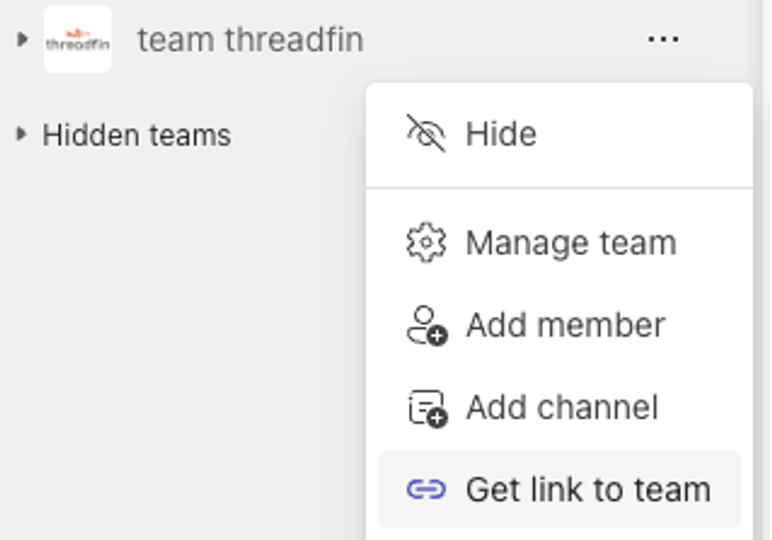 Or to the channel: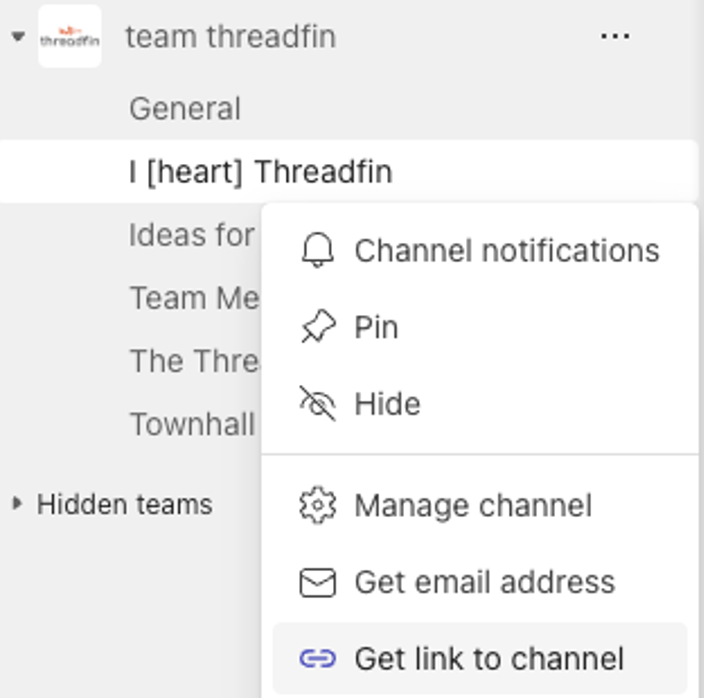 Or to the tab:

Or to the folder within a tab: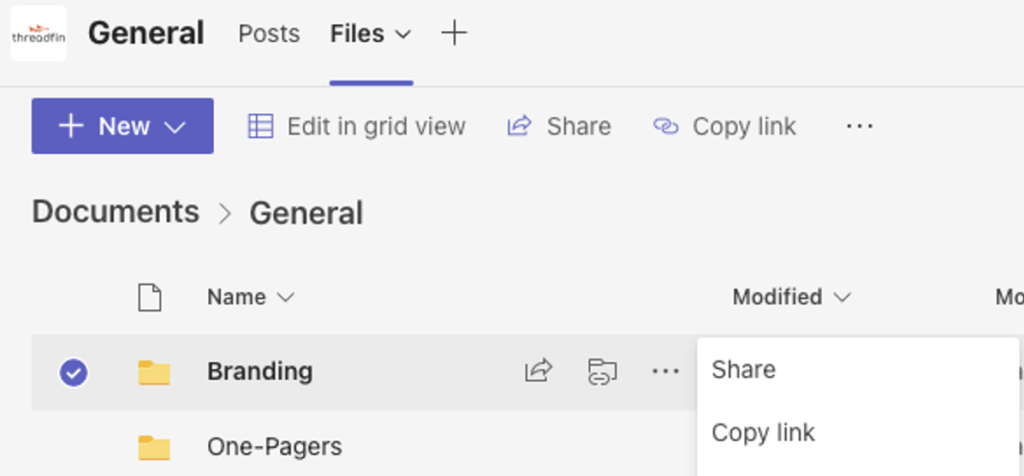 Note that I don't typically share the link to a specific file as these can become broken if a file is deleted/archived/replaced.
Second, remind employees not to download documents from Teams and store them on their computer. At every opportunity, remind them to go back to Teams for the document each time they need it to ensure that they're using the most current version. One of the things I like most about sharing files on Teams is the way it supports version control—but only if your colleagues get the file from the source every time.
I hope this will give you some practical ideas of the ways you can use Teams internally—and if you have additional ideas or do things differently, please do share! 
If you want to integrate Teams more effectively at your organization, reach out to me directly and we'll talk through how Threadfin can help.